Product Description
Anti-Theft Features
HI SAFE&GUARD can be controlled with the remote control
button to activate the anti-theft mode.
Even if car doors are opened by force and try to start the car
and louder alarm goes on and the car will not start.
HI SAFE&GUARD detects any attempts to start engine and it
protects vehicle by completely restrictin the vehicle from running
with louder warning alarm noise despite depressing the brake or accelerator pedal.
Once anti-theft mode goes on auto hold will stop the care.
HI SAFE&GUARD is triple security System to protect vehicle from theft:
-Door lock and Unlock System
-Anti-theft alarm system
-Start transmitter lock system
HI SAFE&GUARD is compatible with a wide range of Hydraulic Brake system from Sedan to Truck.
Auto Brake Hold Feature
Auto hold system responds within 1.5 seconds after the pressing brake pedal.
The system allows time to free your foot from brake pedal and the system releases the brakes once either the brake or accelerator pedal is pressed again.
Works safe on up and down hills so no need to use parking brake (Hand Brake).
It helps avoid fatigue while driving for long house in heavy congested areas.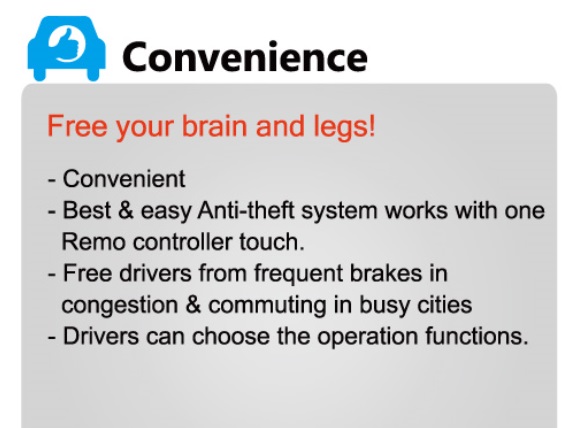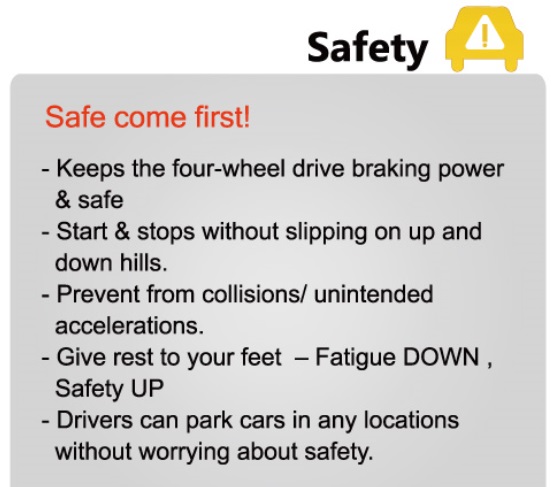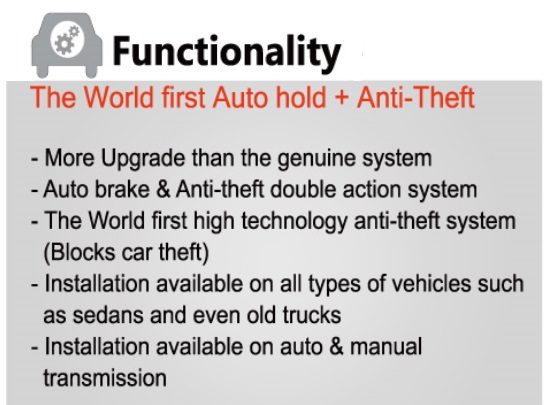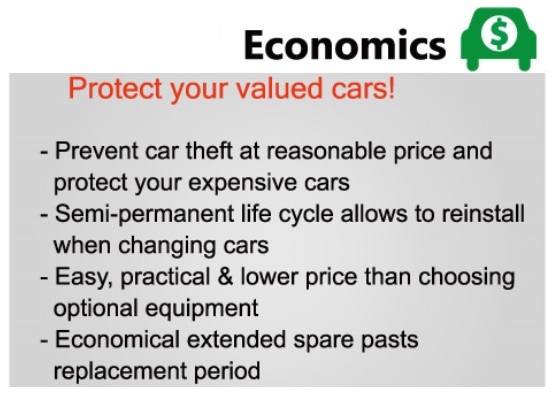 INTERNATIONAL SHIPPING NOTICE:
Do you live in a country known for delivery troubles or strict customs regulations? If so, you have come to the right place!
Korean Auto Imports is not bound by logistical road blocks found with most KDM suppliers. You can trust KAI to handle the shipment of your goods properly. We have many years of experience exporting to ALL regions of the world and know well the proper handling procedures.
We gladly ship worldwide INCLUDING (but not limited to) the following "problem" countries:
Brazil, Germany, Spain, France, Russia, Italy (Known for strict customs, however you need not worry!)
Caribbean Islands (Trinidad, Aruba, St. Martin etc) , Bermuda, Peru, Costa Rica, Panama, Venzuela, Martinique, French Polynesia, Guadeloupe, and many other Island or remote countries (Small items can ship from the USA direct, Larger items ship to your USA Forwarding Agent)
South Africa, Seychelles and other select countries are no problem for direct commercial air freight shipment from either our Korea or USA branch (however freight cost is pricey, contact for quote)
USA, Canada, Guam, Puerto Rico, Hawaii, Alaska (USPS Postal Air Service or UPS... walk in the park!)
Australia, New Zealand, Malaysia, Singapore, Philippines, Indonesia, UAE, Chile, India, Sri Lanka, China, Japan, Saudi Arabia, Turkey, Kazakhstan, Egypt, Iceland, Greenland (We are frequently asked if we ship to these countries and the answer is YES!)
Europe (U.K, Ireland, Denmark, Norway, Sweden, Finland, Belgium, Ukraine, Greece, Switzerland etc) (No Problem!)
SPECIAL PROCEDURE COUNTRIES:
While we do offer shipment service to the following countries, special payment and shipment procedures are required: Oman, Jordan, Yemen, Iran, Vietnam, Laos, Africa
If you have any doubts about shipment to your country/region or would like to request specific information (carrier, transit time, cost, etc) please do not hesitate to contact us anytime: info@KoreanAutoImports.com
NOTE: Import Duty/Vat/Brokerage etc is always the customers responsibility. We do NOT ship DDP (duty pre-paid).