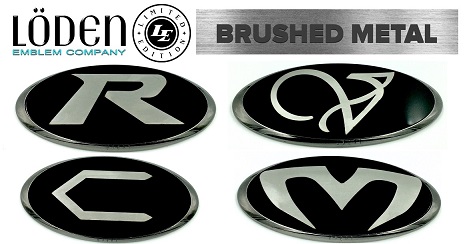 *LIMITED EDITION* "BRUSHED-BLACK" RVCM Badges, by LODEN
"BRUSHED-BLACK" Badges for ALL Hyundai Year/Models! New premium quality metal Base/Edge/Logo design with a BRUSHED STAINLESS STEEL center logo. Choose between the following LOGO & COLOR combination options using the menu selections above:
1.) CHOOSE LOGO DESIGN:
A.) "R" Logo
B.) "V" Logo
C.) "C" Logo
D.) "M" Logo
2.) CHOOSE BASE/EDGE COLOR:
A.) BLACK-CHROME
B.) MATTE BLACK
3.) CHOOSE CENTER COLOR:
A.) GLOSS BLACK
B.) CARBON WEAVE (black)
Each badge includes high grade automotive strength 3M VHB adhesive backing for easy/secure placement. Backed by Loden's industry leading 3yr manufacturer warranty against any weather related issues.
LIMITED EDITION! Pick-up your set while supplies last!