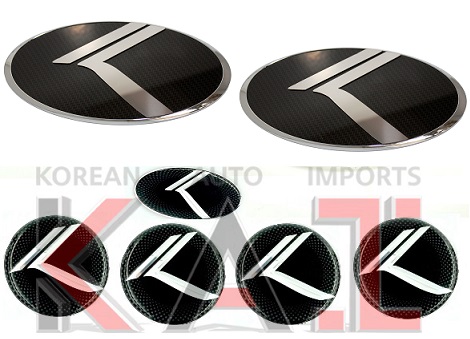 *IMPORTANT NOTE: This 7pc package included the ROUND Steering Wheel Emblem, not oval as shown
FULL 7pc Package "THE REAL K" SS Vintage K Badges, by LODEN
"THE REAL K" SS Vintage K Badges for all 2011-2014 Sonata YF models. This is the ACTUAL Kia K styled logo which came standard on Kia vehicles in Korea until 2007. Give your modern KIA vehicle the TRUE "Vintage K" logo to proudly represent the heritage of the KIA brand. Available in a wide range color combinations to suite ANY vehicle's style. New high-quality metal base design with stainless steel K logo. Choose your COLOR BASE/EDGE, CENTER and K LOGO by using the drop-down menu's above to create your own unique badge!
Each badge includes high grade automotive strength 3M VHB adhesive backing for easy/secure placement.
Backed by Loden's industry leading 3yr manufacturer warranty against any weather related issues.
FULL 7pc Package Includes:
*SS Vintage FRONT Full Replacement Badge (choose color combination using drop-down menu's above)
*SS Vintage REAR Full Replacement Badge (choose color combination using drop-down menu's above)
*3D Vintage K Logo Wheel Cap Emblem Overlays 4pc
*3D Vintage K Steering Wheel Emblem Overlay
LIMITED EDITION! Pick-up your set while supplies last!
BADGE SIZES: LODEN produces PROPER Badge size/shapes for each advertised year/make/model. Badge sizes are supplied based on the year/make/model found in the TITLE and DESCRIPTION of THIS listing (above). If for some reason additional information/clarification is needed we will contact you prior to shipment. Otherwise, please rest assured you will receive the correct size badges for the advertised vehicle. We have been supplying badges for Kia/Hyundai models for 15 years and know well the proper size/shape for each advertised vehicle.